The Asan Institute for Policy Studies hosted a public seminar featuring Ambassador Kazuhiko Togo and Dr. Gilbert Rozman on Thursday, March 9, 2017 in Washington, DC. Prime Minister Abe's pursuit of President Putin in 2016 raises far-reaching questions that have yet to be answered. Few recognize the geopolitical and geo-cultural importance of this diplomatic endeavor. Professors Togo and Rozman discussed their different interpretations of what transpired and what lessons should be drawn. Their dialogue shed light on Japan's foreign policy and the prospects for President Trump's policies toward Russia and Japan.
Date / Time: Thursday, March 9, 2017 / 10:00-11:30am
Location: Washington, DC
Biographies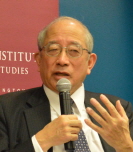 Kazuhiko Togo is Professor and Director of the Institute for World Affairs at Kyoto Sangyo University since 2010. He served in the Japanese Foreign Ministry from 1968. Half of his career was devoted to Russia and he retired in 2002 as Ambassador to the Netherlands. Since then, he taught at universities abroad, including those in Leiden, Princeton, Santa Barbara, Seoul, and Taiwan. His latest publications include Russian and Japanese Civilization: Historical Analysis of Formation and Development of National Identities, co-edited with A.N. Panov (in Japanese and Russian).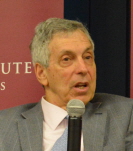 Gilbert Rozman taught at Princeton University from 1970 to 2013. He now serves as the editor of The Asan Forum, an online journal on the international relations of the Asia-Pacific region. His writings bridge sociology, history, and political science, concentrating on the states of Northeast Asia.