The Asan Institute for Policy Studies hosted an Asan Seminar titled, "Revisiting Korea-Japan Relations" in conjunction with the release of The Japan-South Korea Identity Clash on Monday, May 18, 2015 in Washington, D.C. South Korea and Japan are Western-style democracies with open-market economies committed to the rule of law. They are also US allies. However, despite their shared interests, shared values, and geographic proximity, divergent national identities have driven a wedge between them. Drawing on decades of expertise, Brad Glosserman and Scott Snyder investigated the roots of this split and its ongoing threat to the region and the world.
In their new book, Glosserman and Snyder isolate competing notions of national identity as the main obstacle to a productive partnership between Japan and South Korea. Through public opinion data, interviews, and years of observation, they show how fundamentally incompatible, rapidly changing conceptions of national identity in South Korea and Japan—and not struggles over power or structural issues—have complicated territorial claims and international policy. Despite changes in the governments of both countries and concerted efforts by leading political figures to encourage US-ROK-Japan security cooperation, the Korea-Japan relationship continues to be hobbled by history and its deep imprint on ideas of national identity. They recommend bold, policy-oriented prescriptions for overcoming problems in Japan-Korea relations and facilitating trilateral cooperation among these three Northeast Asian allies, recognizing the power of the public on issues of foreign policy, international relations, and the prospects for peace in Asia.
Date / Time: Monday, May 18, 2015 / 2:00-3:30PM
Venue: 1211 Connecticut Ave. NW-8th Floor, Washington, D.C. 20036
Video
Panelists
Presenters
Brad Glosserman
Executive Director, Pacific Forum CSIS
Scott Snyder
Senior Fellow for Korea Studies, Council on Foreign Relations
Discussant
Gilbert Rozman
Editor-in-Chief, The Asan Forum
Moderator
Woo Jung-Yeop
Research Fellow and Director, Washington, D.C. Office, The Asan Institute for Policy Studies
Press Coverage:
May 20, 2015
Seoul Shinmun
Munhwa Ilbo
Segye Ilbo
Ajou Economic Daily
Korea Times
May 19, 2015
Yonhap News TV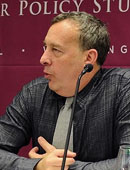 Brad Glosserman is executive director of the Pacific Forum CSIS. He is also coeditor of Comparative Connections. He has written dozens of monographs on US foreign policy and Asian security relations. His articles have appeared in scholarly journals throughout the region, and he has contributed numerous chapters to books on regional security. He recently completed a study on the future of US alliances in Asia. He is the co-editor of The Future of U.S.-Korea-Japan Relations: Balancing Values and Interests. His opinion articles and commentaries regularly appear in media around the globe. He is the English-language editor of the journal of the New Asia Research Institute (NARI) in Seoul. Prior to joining Pacific Forum, Glosserman was, for 10 years, a member of The Japan Times editorial board and wrote a weekly column on technology. He continues to serve as a contributing editor for the newspaper. While in Japan, he was a lecturer on Japanese politics at the Institute for the International Education of Students. He periodically lectures at the Management Center of Innsbruck (MCI). He holds a JD from George Washington University, an MA from Johns Hopkins University's School of Advanced International Studies (SAIS), and a BA from Reed College.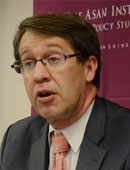 Scott Snyder is senior fellow for Korea studies and director of the program on US-Korea policy at the Council on Foreign Relations, where he served as an adjunct fellow from 2008-2011. Snyder's program examines South Korea's efforts to contribute on the international stage; its potential influence and contributions as a middle power in East Asia; and the peninsular, regional and global implications of North Korean instability. Snyder is also editor of North Korea in Transition: Politics, Economy and Society, Global Korea: South Korea's Contributions to International Security and The US-South Korea Alliance: Meeting New Security Challenges (all 2012). He served as the project director for CFR's Independent Task Force on policy toward the Korean Peninsula and currently writes for the blog Asia Unbound. Prior, Snyder was a senior associate at the Asia Foundation, where he founded and directed the Center for US-Korea Policy and served as representative in Korea (2000-2004). He was also a senior associate at Pacific Forum CSIS. Snyder served at the US Institute of Peace and Asia Society. He was the Pantech visiting fellow at Stanford (2005-2006) and received an Abe fellowship (1998-1999). He is the author of China's Rise and The Two Koreas: Politics, Economics, Security (2009), Paved with Good Intentions: The NGO Experience in North Korea (co-editor, 2003), and Negotiating on the Edge: North Korean Negotiating Behavior (1999). Snyder received a BA from Rice University and MA from Harvard, and was a Watson fellow at Yonsei University.