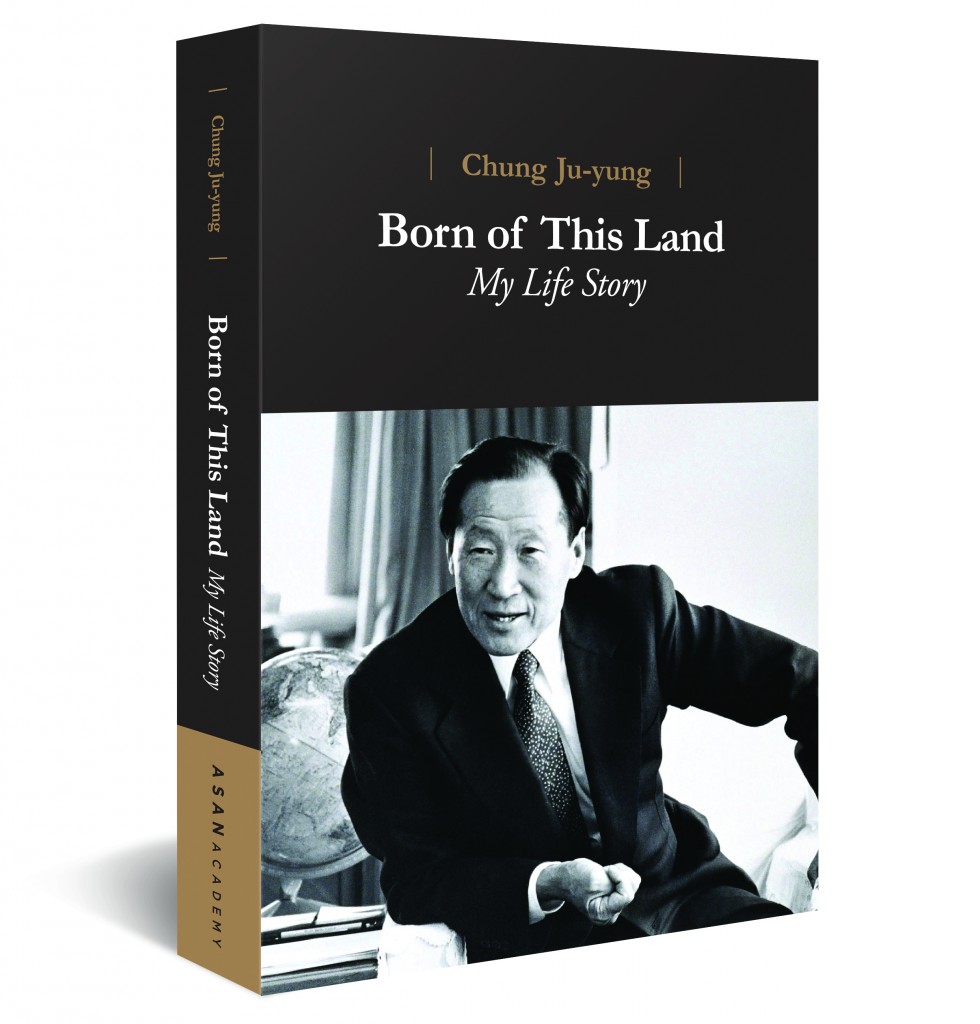 Product Details
• Author: Chung Ju-yung
• Publisher: The Asan Academy
• Paperback: 357 pages
• Price: KRW 25,000
• Language: English
• Product Dimensions: 5.9 x 8.9 inches
• ISBN: 979-11-961934-4-7 03810
※ Now on sale at Kyobo Bookstores nationwide
About the Book
"As a businessman and a hard working laborer born of this land, I feel an infinite sense of pride that I have contributed my share to this country's breakthrough." – Chung Ju-yung
Born of This Land: My Life Story is an English translation of the Chung Ju-yung's autobiography. Chung ju-yung is the founding chairman of the Hyundai Group. The story begins with the escape from his home to the beginning of Chung's first auto repair shop. Chung's personal account of the construction of Soyang River Dam and the Seoul-Busan Expressway, establishment of Hyundai Motors and Hyundai Heavy Industries, and Seosan Reclamation Project are included in the book. Through Chung's account, we will gain a deeply personal insight into the man who contributed to the Miracle on the Han River.
About the Author
Chung Ju-yung(1915.11.25~2001.03.21) is the founder of Hyundai, which included the global consumer brand Hyundai Motor Company, one of the world's foremost shipbuilders Hyundai Heavy Industries, and a large number of other affiliates. Born on November 25, 1915 in Tongcheon County, Gangwon Province, in what is now North Korea, Chung ran several small businesses prior to Korea's liberation from Japanese colonialism in 1945. In 1946, he founded the Hyundai Motor Service Center, and the next year Hyundai Construction Company. These two businesses would blossom into the bedrock of one of Korea's industrial titans.
Chung presided over the Hyundai group during South Korea's rise from being one of the world's poorest nations to now one of its richest. Aside from his many achievements in the world of business, he also helped secure the 1988 Olympics for Seoul and sought to improve relations with North Korea through public diplomacy.
Contents
Preface for the English Edition • viii
Editorial Note • xiv
Prologue • 02
| Chapter 1 |
My Hometown, My Parents • 05
My hometown, Tongcheon • 06
My childhood and leaving my hometown • 13
| Chapter 2 |
The Birth of Hyundai • 19
From dock worker to rice shop owner • 20
An auto-repair shop, a fire, and Ado Service again • 25
Blessing in disguise at the Holdong Mine • 31
Postliberation in Donam-dong • 32
Hyundai Auto Service Center, Hyundai Construction, and the Korean War • 36
The ordeal of Goryeong Bridge • 49
Goryeong Bridge, a blessing in disguise • 54
Success is all about timing and decision-making • 59
Shin-yung, my brother • 65
| Chapter 3 |
My Construction Business • 71
Construction, the key to modernization • 72
Going overseas • 75
Building the Soyang River Dam • 81
The Gyeongbu Expressway: Korea's main artery • 90
I am a builder • 101
| Chapter 4 |
The Hyundai Motor Company and Hyundai Shipbuilding • 105
The Hyundai Motor Company gets its start • 106
Our first car • 112
Dreaming of a shipyard • 128
In search of credit • 132
Someone crazier than me • 141
Leaving a mark in shipbuilding • 144
To laugh or cry? • 148
The oil shock of 1973 • 152
| Chapter 5 |
Drama in the Middle East and the Milestone Year, 1980 • 157
My near-death experience • 158
To the Middle East we go • 163
High drama in Jubail • 165
Hurdle, after hurdle, after hurdle • 171
Mock us if you will • 177
The "thinking bulldozer" • 183
Giving back to society through the Asan Foundation • 185
Korea's business leader • 190
A difficult late 1970s • 197
Hyundai Heavy Industries under siege • 200
A dark period • 206
| Chapter 6 |
The 1988 Olympics and Korea's Fifth Republic • 209
President Park Chung-hee and Korea's bid for the 1988 Olympics • 210
Going all out in Baden-Baden • 214
Two years and two months: serving on the Korean Sport & Olympic Committee • 225
Reclaiming land for a small nation • 231
The bombing in Rangoon • 240
Growing pains • 244
| Chapter 7 |
Mt. Geumgang and Siberia • 251
The evolution of the Mt. Geumgang project • 252
Meeting Gorbachev • 261
Claiming a stake in Siberia • 264
| Chapter 8 |
Loving My Country, Loving the People • 271
Human capital above all else • 272
Hyundai is wealthy, not I • 274
Businesses contribute to their nation • 278
The bigger the better • 283
When will the private sector lead the economy? • 288
Fundamentals over frippery • 292
| Chapter 9 |
My Philosophy, the Spirit of Hyundai • 295
The Hyundai spirit • 296
No more corruption, please • 298
Money and wealth are not the same • 301
Frugality and honesty lead to wealth • 303
Positive thinking is the road to happiness • 308
The conditions for happiness • 313
An ordinary wife • 316
For the nation • 321
Epilogue • 326
Appendix A: Photos of Chung Ju-yung with Family • 329
Appendix B: Chronology • 337
Notes • 353