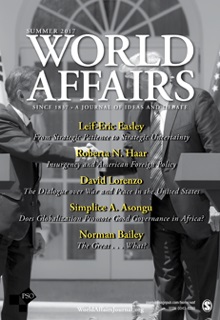 Professor Easley contributed the lead article to the current issue of World Affairs Journal. According to the editor's introduction:
"The first article in this issue of WAJ could not be more topical, more focused on practical policy advice, or, frankly, more important at the present time. Continuing a conversation initiated last year in the Summer issue of WAJ on 'South Korea's Decisions to Counter the North' (Easley 2016), Leif-Eric Easley engages the wider ramifications and strategic uncertainty facing 'Trump, North Korea, and South Korea's New President' after the Obama era of 'strategic patience.' Detailing how the national interests of the Republic of Korea, the United States, and Japan overlap with regard to North Korea, the author examines the potential pitfalls that the Trumpian approach of strategic uncertainty may bring. And they are sobering. Yet he also argues, inter alia, that if appropriately attuned, strategic uncertainty can be used to positive effect 'to build pressure against North Korea's norm-violating behavior and ultimately to avoid conflict.'"
"From Strategic Patience to Strategic Uncertainty: Trump, North Korea, and South Korea's New President," World Affairs, Vol. 180, No. 2 (Summer 2017), pp. 7-31.
Full text available at: http://journals.sagepub.com/doi/pdf/10.1177/0043820017721361
* ​This article was published on August 30 at World Affairs Journal. The views expressed herein do not necessarily reflect the views of the Asan Institute for Policy Studies.​