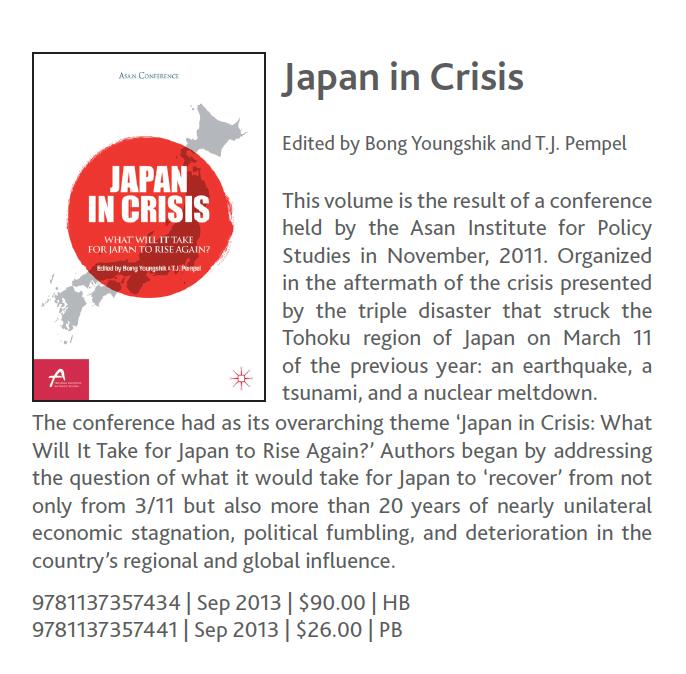 About the Book
Produced as the result of an Asan Institute conference, Japan in Crisis was first published by the Asan Institute for Policy Studies in December 4, 2012. The book was released once again in September 19, 2013 through Palgrave Macmillan in association with the Institute, now available to readers in the US and worldwide.
Table of Contents
T.J. Pempel
Introduction
Starting with Fukushima
Masakatsu Ota
The Fukushima Nuclear Crisis and Its Political and Social Implications
The Political Economy of Slow Growth
Gregory Noble
Japan's Economic Crisis: More Chronic than Acute—So Far
William Grimes
Japan's Fiscal Challenge: The Political Economy of Reform
Hurdling Political Obstacles
Tetsundo Iwakuni
Governance Crisis in Japan: Return to the Basic Building Blocks of Democracy
Jun Saito
The Ghost of the Second Republic? The Structural Weakness of Parliamentary Bicameralism in Japan
Toward a Multicultural Solution?
Mikyoung Kim
Embracing Asia: Japan's Expat Politics
Improving Relations with the Asia-Pacific Neighbors
Kazuhiko Togo
What Will It Take for Japan to Rise Again?: Vision, Regional Initiative, and Japan-Korea Relations
Sok Chul Kim
Regional Situation Awareness as a Basis for Northeast Asian Regional Cooperation in Dealing with Transnational Nuclear Disasters
Michael Auslin
The US-Japan Alliance and Japan's Future
T.J. Pempel
An Economic Step toward Revitalizing Japan and US-Japan Ties