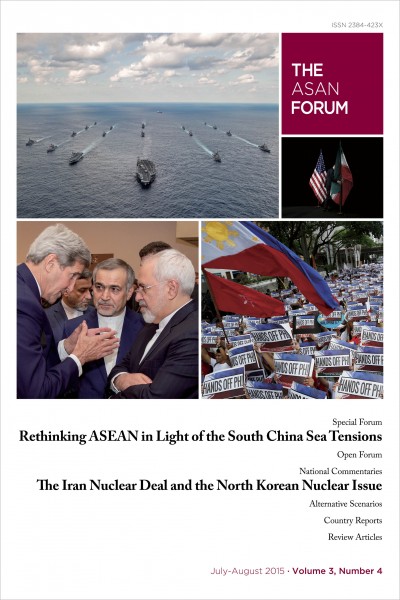 Genre Political, Social
Title The Asan Forum Volume 3, Number 3
Editor-in-Chief Gilbert Rozman
Pages 260 pages
Price $14.95 USD/ 16,000 KRW
ISSN 2384-423X
Published date 2015.9.18
Publisher The Asan Institute for Policy Studies
Address 11 Gyeonghuigung 1Ga-Gil, Jongno-Gu, Seoul, 110-1062, Korea
Phone 02-3701-7309
Fax 02-730-5876
Associate copy-editor Kildong Kim/kildongk2@asaninst.org
[About the Book]
The Asan Forum is a bimonthly journal for in-depth interpretation of rapid changes across the Asia-Pacific region. The Asan Forum provides a platform for world renowned experts to voice their opinion on pressing issues in the region. The PDF files can be downloaded at http://theasanforum.org. The hardcopy is $14.95 and 16,000 KRW.
[Table of Contents]
Special Forum: Rethinking ASEAN in Light of the South China Sea Tensions - Introduction to the Special Forum/Editorial Staff - The Impact of South China Sea (SCS) Tensions on ASEAN: An "Eye-of-the-Beholder" Dilemma/Satu Limaye - ASEAN's Failing Grade in the South China Sea/Ian Storey - The US-China-Japan Triangle and the Concept of "ASEAN Centrality": Myth or Reality?/Kuroyanagi Yoneji - Malaysia's "Special Relationship" with China and the South China Sea: Not So Special Anymore/Scott Bentley - The South China Sea Disputes: Some Blindspots and Misperceptions/Joseph Chinyong Liow
Open Forum - Striking the Twenty-first Century Trade Agreement: The Case of Intellectual Property in the Trans-Pacific Partnership and US-Northeast Asian Economic Relations/June Park - Russia, China and the Emerging Greater Eurasia/Alexander Lukin - The Politics of "Struggling Co-evolution": Trade, Power, and Vision in Vietnam's Relations with China/Truong-Minh Vu - Myanmar's Liberalization and North Korea: Transforming "Outposts of Tyranny"? Lessons and Cautions/David I. Steinberg - Grand Strategy for South Korea? An Overview/Han Sung-Joo - Washington Insights(Vol. 3, No. 4)/Editorial Staff
National Commentaries: The Iran Nuclear Deal and the North Korean Nuclear Issue - A Russian Commentary/Alexandre Y. Mansourov - An American Commentary/Bruce Klingner - A South Korean Commentary/Chun Yungwoo
Alternative Scenarios 1: The Sino-Russian-North Korean Northern Triangle
-
Positive Scenario II: This Triangle Will Take Shape
/Gilbert Rozman
Alternative Scenarios 2: The Next Phase of Sino-Japanese Relations - Positive Scenario I: Five Reasons for a Positive Outcome/Ren Xiao - The Negative Scenario I: No Escape from Troubled Seesaw in Japan-China Relations/ Akio Takahara
Country Reports: South Korea, Japan, Russia, China - China/Editorial Staff (with the assistance of Dong Jiaxin) - Japan/Editorial Staff - Russia/Editorial Staff (with the assistance of Olga Puzanova) - South Korea/Editorial Staff (prepared by Han Minjeong)
Review Articles - 'Ukeikasuru Nihon seiji'('Japan's Politics Leaning to the Right')/Gilbert Rozman
[About the editor-in-chief]
Gilbert Rozman is the Editor-in-Chief of the Asan Forum. He is also an Associate Faculty member in the East Asian Studies department of Princeton University and Musgrave Professor of Sociology. He specializes in Northeast Asian societies and has compared them, most recently concentrating on national identities. His recent books include: Chinese Strategic Thought toward Asia, U.S. Leadership, History and Bilateral Relations in Northeast Asia, Northeast Asia's Stunted Regionalism: Bilateral Distrust in the Shadow of Globalization and East Asian National Identities: Common Roots and Chinese Exceptionalism. He received his Ph.D. from Princeton University and B.A. from Carleton College.