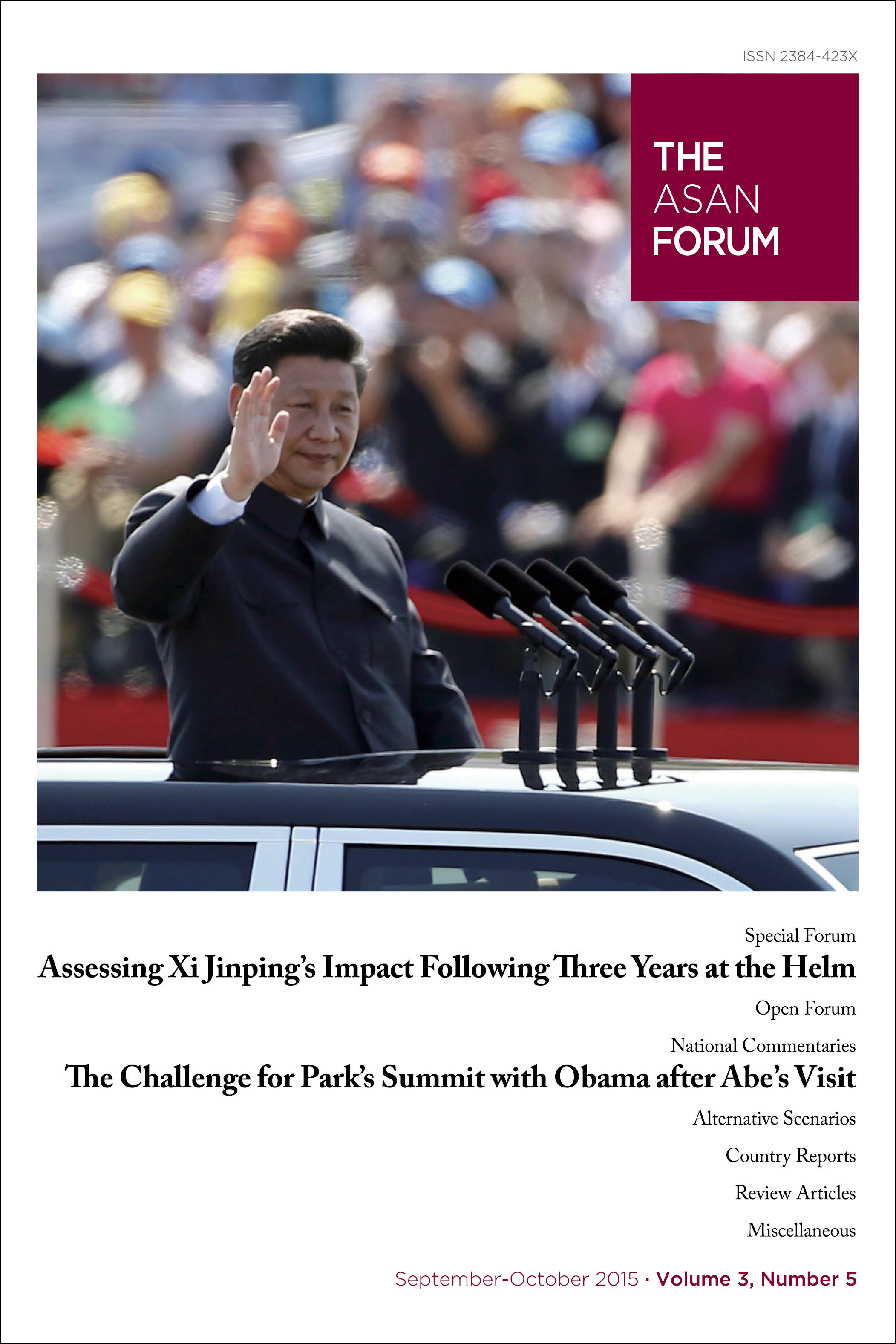 Genre Political, Social
Title The Asan Forum Volume 3, Number 5
Editor-in-Chief Gilbert Rozman
Pages 275 pages
Price $14.95 USD/ 16,000 KRW
ISSN 2384-423X
Published date 2015.11.16
Publisher The Asan Institute for Policy Studies
Address 11 Gyeonghuigung 1Ga-Gil, Jongno-Gu, Seoul, 110-1062, Korea
Phone 02-3701-7309
Fax 02-730-5876
Associate copy-editor Kildong Kim/kildongk2@asaninst.org
About the Book
The Asan Forum is a bimonthly journal for in-depth interpretation of rapid changes across the Asia-Pacific region. The Asan Forum provides a platform for world renowned experts to voice their opinion on pressing issues in the region. The PDF files can be downloaded at http://theasanforum.org. The hardcopy is $14.95 and 16,000 KRW.
Table of Contents
Special Forum:
Assessing Xi Jinping's Impact Following three Years at the Helm
– Introduction
– Xi Jinping Comparted to Deng Xiaoping: Two Consequential Leaders of China
– Xi Jinping as Historian: Marxist, Chinese, Nationalist, Global
– Xi Jinping's Impact on China's Legal Development: Domestic and International
– Dreaming Big, Acting Big: Xi's Impact on China's Military Development
– Grading Xi Jinping's America Policy: C-
Open Forum
– Asia's Southern Tier and Northern Tier
– Washington Insights (Vol. 3, No. 5)
– China's Interests, Actors, and the Implementation of Sanctions against North Korea
– A Theoretical Explanation of the Evolving Northeast Asian Architecture:
The "Incompleteness" of Sovereignty
– Japan and the TPP Conclusion: Regional Order, Negotiations, and Domestic Adjustment
National Commentaries:
The Iran Nuclear Deal and the North Korean Nuclear Issue
– The South Korean Perspective
– The Japanese Perspective
– The US Perspective
Alternative Scenarios 1:
The Next Phase of Sino-Japanese Relations
– Negative Scenario II: Problems Are Structural
– Positive Scenario II: Optimism amidst Doubts for China and Its International Behavior
Alternative Scenarios 2:
History Will Continue to Haunt Japan's Relations with China
– Scenario of Japan's Fault
– Scenario of China's Fault
Country Reports:
South Korea, Japan, Russia, China
– China/Editorial Staff (with the assistance of Dong Jiaxin)
– Japan /Editorial Staff
– Russia/Editorial Staff (with the assistance of Olga Puzanova)
– South Korea/Editorial Staff (prepared by Han Minjeong)
Review Articles
– Chinese Books on China and Global Governance
Miscellaneous:
Topic: The Sino-Russian-North Korean Northern Triangle
– Negative Scenario II: This Triangle Will Not Take Shape
About the editor-in-chief
Gilbert Rozman is the Editor-in-Chief of the Asan Forum. He is also an Associate Faculty member in the East Asian Studies department of Princeton University and Musgrave Professor of Sociology. He specializes in Northeast Asian societies and has compared them, most recently concentrating on national identities. His recent books include: Chinese Strategic Thought toward Asia, U.S. Leadership, History and Bilateral Relations in Northeast Asia, Northeast Asia's Stunted Regionalism: Bilateral Distrust in the Shadow of Globalization and East Asian National Identities: Common Roots and Chinese Exceptionalism. He received his Ph.D. from Princeton University and B.A. from Carleton College.
Editorial Board (In alphabetical order)
Gilbert Rozman, Editor-in-Chief, The Asan Forum
Stephen Blank, Senior Fellow, American Foreign Policy Council
Choi Kang, Vice President, The Asan Institute for Policy Studies
Chu Shulong, Professor, Tsinghua University
Thomas J. Christensen, Professor, Princeton University
Victor Cha, Professor, Georgetown University
L. Gordon Flake, CEO, Perth USAsia Centre
Evelyn Goh, Shedden Professorship, Australian National University
Michael J. Green, Senior Vice President for Asia, Center for Strategic & International Studies
Hahm Chaibong, President, The Asan Institute for Policy Studies
Linda Jakobson, Director, Lowy Institute for International Policy
Lee Sook-Jong*, Professor, Sunkyunkwan University
Joseph C. Liow, Professor and Associate Dean, Nanyang Technological University
Alexander Lukin, Vice Rector, Diplomatic Academy of the Ministry of Foreign Affairs of the Russian Federation
Mo Jongryn, Professor, Yonsei University
C. Raja Mohan, Distinguished Fellow and Head, Observer Research Foundation
Michishita Narushige, Associate Professor, National Graduate Institute for Policy Studies
William H. Overholt, Senior Research Fellow, Harvard University
Gary Samore, Executive Director for Research, Harvard University
Scott Synder, Senior Fellow, Council on Foreign Relations
Soeya Yoshihide, Professor, Keio University
Togo Kazuhiko, Director, Kyoto Sangyo University
Dan Twining, Senior Fellow, German Marshall Fund of the United States
Wang Jisi, Professor and Dean, Peking University
Wang Yizhou*, Professor and Vice Dean, Peking University
Zhu Feng, Professor, Peking University