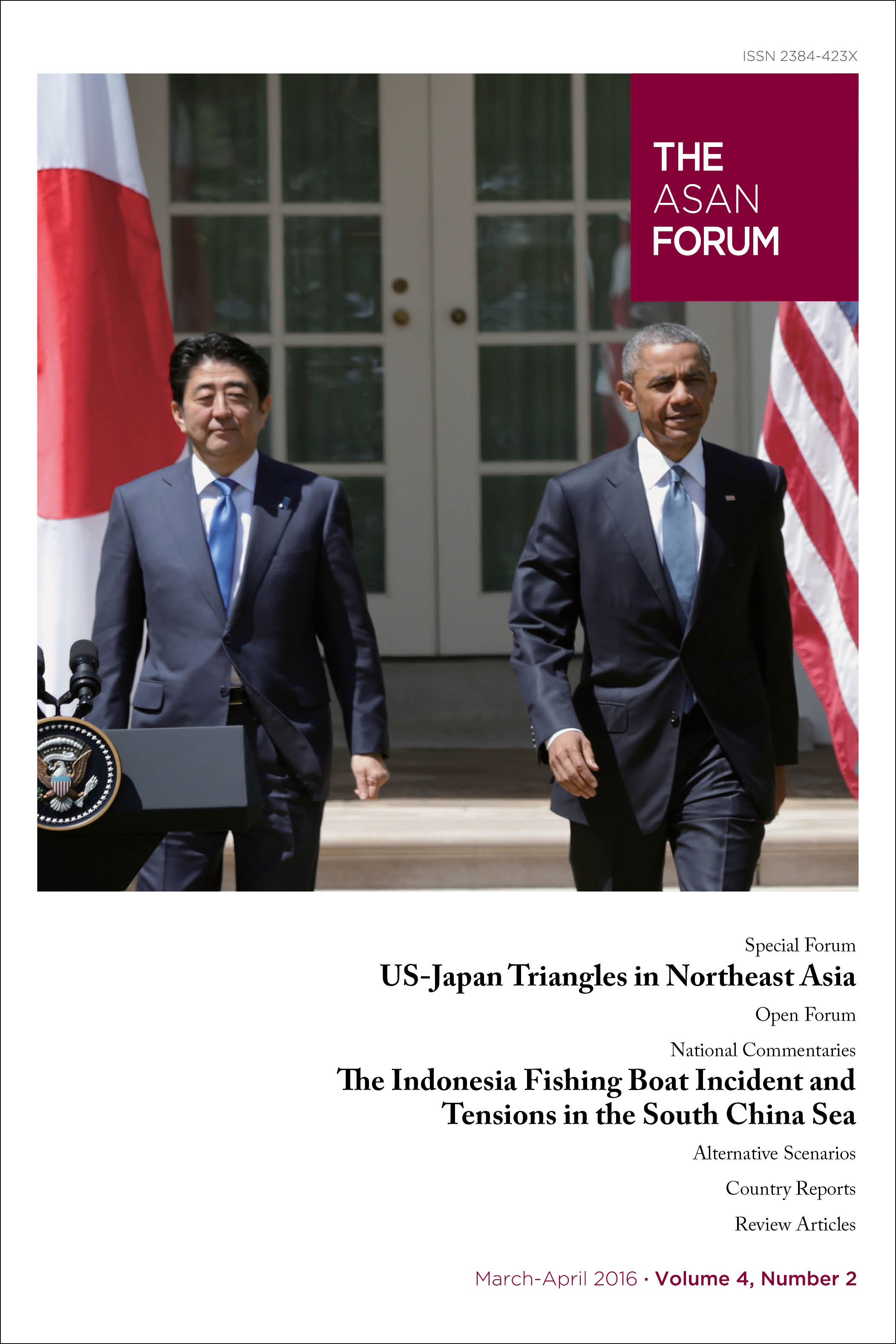 Genre Bimonthly, Journal of Foreign Policy Studies (especially Asia-Pacific Politics)
Title The Asan Forum Volume 4, Number 2
Editor-in-Chief Gilbert Rozman
Pages 288 pages
Price $14.95 USD/ 16,000 KRW
ISSN 2384-423X/9772384423003-11
Published date 13 May, 2016
Publisher The Asan Institute for Policy Studies
Address 11 Gyeonghuigung 1Ga-Gil, Jongno-Gu, Seoul, 03176, Korea
Phone 02-3701-7309
Fax 02-730-5876
Associate copy-editor Kildong Kim/kildongkim@asaninst.org
About the Book
The Asan Forum is a bimonthly journal for in-depth interpretation of rapid changes across the Asia-Pacific region. The Asan Forum provides a platform for world renowned experts to voice their opinion on pressing issues in the region. The PDF files can be downloaded at http://theasanforum.org. The hardcopy is $14.95 and 16,000 KRW.
Table of Contents
Special Forum: Sino-Russian Relations and their Impact on Countries in between
Introduction to the Special Forum: US-Japan Triangles in Northeast Asia / Editorial Staff
Japan, China, and the United States in an Uncertain Asia / Sheila Smith
The Japan-US-Russia Triangle in 2016 / Gilbert Rozman
Reviving the US-Japan-Korea Triangle in South Korean Diplomacy / Park Cheol-hee
Synopsis of the German Marshall Fund's Japan Trialteram Forum, March 1-2, 2016 / Editorial Staff
Navigating Historical Tensions: Pragmatic Leadership, Empathy, and the US Factor in Japanese-South Korean Relations / John Nilsson Wright

Open Forum
Washington Insights / Editorial Staff
Russia-Southeast Asia Relations: In China's Shadow? / Vitaly Kozyrev
Can't Buy Me Soft Power (with Hard Power): China's Appeal to South Koreans / Kim Jiyoon
The Belt & Road Initiative as Power Resource: Lessons from Japan / Willilam W. Grimes
Mongolia's Place in China's Periphery Diplomacy / Jeffrey Reeves

National Commentaries: The Indonesia Fishing Boat Incident and Tensions in South China Sea
A View from the United States / Donald K. Emmerson
A View from Australia / Nathalie Sambhi
A View from Indonesia / Ristian Atriandi Supriyanto

Alternative Scenarios 1: The Russian Far East
Positive Scenario II / Artyom Lukin
Negative Scenario II / Gilbert Rozman

Alternative Scenarios 2: China's New Silk Roads
Reconciling Alternative Scenarios / Min Ye
Xi Jinping's Belt & Road Initiative: How to Win Friends & Influence Europeans / Theresa Fallon

Country Reports: South Korea, Japan, Russia, China
China / Danielle F.S. Cohen (with the assistance of Dong Jiaxin)
Japan / Editorial Staff
Russia / Editorial Staff (with the assistance of Olga Puzanova)
South Korea / Editorial Staff (prepared by Han Minjeong)

Review Articles: Russia's Turn to the East
Ex-Ambassadors to Seoul Advise It to Change / Gilbert Rozman
About the editor-in-chief
Gilbert Rozman is the Editor-in-Chief of the Asan Forum. He is also an Associate Faculty member in the East Asian Studies department of Princeton University and Musgrave Professor of Sociology. He specializes in Northeast Asian societies and has compared them, most recently concentrating on national identities. His recent books include: Chinese Strategic Thought toward Asia, U.S. Leadership, History and Bilateral Relations in Northeast Asia, Northeast Asia's Stunted Regionalism: Bilateral Distrust in the Shadow of Globalization and East Asian National Identities: Common Roots and Chinese Exceptionalism. He received his Ph.D. from Princeton University and B.A. from Carleton College.