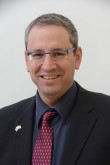 Lecturer, Bar-Ilan University
Session 3 - "Living with Terrorism"
Dr. Alon Levkowitz is a Lecturer and Coordinator of the Asian Studies Program at Bar-Ilan University, and Researcher at the Begin Sadat Center for Strategic Studies at Bar-Ilan University. Previously, Dr. Levkowitz was a Visiting Scholar at the Institute of Asian Research, University of British Columbia, Canada. His research focuses on politics and foreign relations in East Asia, Korean foreign and security policy, and Northeast Asian security. His recent research focuses on North and South Korean relations with the Middle East. He has published articles in a number of academic journals including International Relations of the Asia Pacific, The Korean Journal of Defense Analysis, Defense and Peace Economics, Middle East and Policy Studies, and Military & Strategic Affairs. Dr. Levkowitz received his Ph.D. from the Hebrew University of Jerusalem.