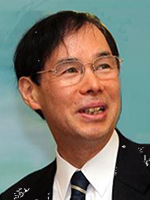 Dean, Asian Development Bank Institute
Session 3 - "WTO vs. Mega FTAs"
Dr. Yoshino is the Dean of the Asian Development Bank Institute and Senior Advisor for the Financial Research Center in the Japanese Financial Services Agency. He is also Professor Emeritus at Keio University. He has previously served as the Chair of the Financial Planning Standards Board and the Chair of the Japanese Ministry of Finance's Council on Foreign Exchange. He was also Chair of the Fiscal Council in the Ministry of Finance. He has served as a Board Member of the Deposit Insurance Corporation of Japan, Chairperson of the Meeting of Japanese Government Bond Investors, and President of Japan's Financial System Council. Dr. Yoshino has also been a visiting professor at several universities in France, Australia, Sweden, the U.S., and Japan. He received his Ph.D. in economics from the Johns Hopkins University and a B.A. in economics from Tohoku University in Japan. He also holds an honorary doctorate from Goteborg University in Sweden.