On Monday, May 19, 2014, the American Politics and Policy Program at the Asan Institute for Policy Studies hosted a closed roundtable with a senior delegation from the Heritage Foundation led by Jim DeMint, President of the Heritage Foundation and former U.S. Senator of South Carolina (2005-2013).
In a presentation entitled "A Conservative Viewpoint on Washington's Policy Debates," Sen. DeMint outlined the role of the Heritage Foundation as America's premier conservative think tank in conducting innovative research and effective public dissemination. Sen. DeMint provided an overview of the political environment in the lead-up to the 2016 U.S. presidential elections and shared his views on the role of the federal government in major policy debates. The closed meeting also examined the changing role of U.S. leadership in East Asia and the need to strengthen alliances in the region.
Date/Time: Monday, May 19, 2014 / 12:00-14:00
Venue: Conference Room (4F), The Asan Institute for Policy Studies
Speaker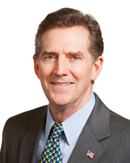 Jim DeMint is the President of the Heritage Foundation. Previously, Sen. DeMint was the Republican Senator for South Carolina (2005-2013) as well as a congressman in the U.S. House of Representatives (1999-2005). During his time in the Senate, Sen. DeMint has served on numerous committees, including the Commerce, Science and Transportation Committee; the Environment and Public Works Committee; the Joint Economic Committee; the Special Committee on Aging; the Committee on Foreign Relations and the Committee on Commerce, Science, and Transportation. A strong advocate of limited government, individual liberty, a strong national defense and traditional values, Sen. DeMint is the author of Now or Never: Saving America from Economic Collapse (2012); The Great American Awakening: Two Years that Changed America, Washington and Me (2011); and Saving Freedom: We Can Stop America's Slide into Socialism (2009). Sen. DeMint received a B.S. from the University of Tennessee and an MBA from Clemson University.