On ​​Tuesday,​ ​May 30, 2014, the Asan Institute for Policy Studies hosted a roundtable discussion with ​the Hon. Michael Kirby, Chair of the UN commission of inquiry on human rights in the DPRK.​ The Hon. Kirby shared with us the findings and recommendations of the commission, including a call to bring the perpetrators before the International Criminal Court.
​Date/Time: Friday, May 30, 2014 / 12:00 – 2:30PM
Venue:​ Conference Room (4F), The Asan Institute for Policy Studies
Speaker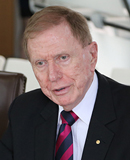 The Hon. Michael Kirby served as the Justice of the High Court of Australia from 1996 to 2009. He also served as the President of the International Commission of Jurists (1995-98), member of UNESCO International Bioethics Committee (1996) and President of the Court of Appeal of Solomon Islands (1995-1996). He was member of the World Health Organisation's Global Commission on AIDS (1988-1991) and Special Representative of UN Secretary-General for Cambodia (1994-96). In 2013 the Hon. Kirby was appointed to head the UN commission of inquiry to investigate human rights violations in the Democratic People's Republic of Korea His special concerns have included human rights, the rule of law, the independence of the judiciary and the impact of science and technology on society and its laws. In the past he has been involved in issues raised by HIV/AIDS, including sexuality and the law.