2012 Global Go To Think Tanks Report and Policy Advice
The Asan Institute for Policy Studies ranks 5th in the category of
"Top 45 Think Tanks in China, India, Japan and the Republic of Korea"
2012 Think Tanks and Civil Societies Program at University of Pennsylvania's International Relations Program has published a final report on 2012 Global Go To Think Tanks Report and Policy Advice. The Asan Institute for Policy Studies came in at 5th in this year's regional rankings for the category of "Top 45 Think Tanks in China, India, Japan and the Republic of Korea."
The Global Go To Think Tanks rankings is the first and most comprehensive report on the World's 6,603 think tanks dispersed in 182 countries.
First, a survey is taken from approximately 2,000 scholars, policymakers, journalists, regional and subject area experts. Then, 6,603 think tanks and over 9,000 experts and specialists are individually contacted to submit their nominations.
The Asan Institute for Policy Studies was established in February 2008. It's among the youngest of the think tanks that made this year's ranking.
In six short years, the Asan Institute for Policy Studies has successfully hosted international conferences such as the Asan Plenum and the Asan China Forum. Its publications such as The Arab Spring, China's Foreign Policy, and Japan in Crisis are receiving an international recognition.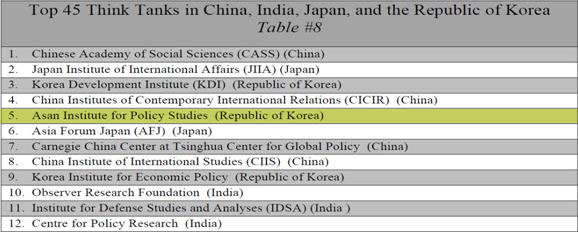 For press inquiries, please contact: Ms. Minhee Lee (02-3701-7377 / minheepd@asaninst.org)