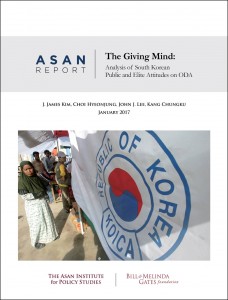 Although there have been many studies that have explored South Korean public attitudes towards ODA, this report presents the first elite survey on South Korean ODA. While South Korean elites, much like the public, favor continuation of the government's ODA policy, our data reveals some non-trivial findings about potential improvements in existing public relations campaign and interesting ideological and gender differences among elites on various dimensions of existing policy.
Acknowledgments
This report has been made possible by the generous grant from the Bill & Melinda Gates Foundation. The purpose of this grant is to support Korea's effort to sustain and increase engagement on global health and development issues. The authors would like to extend their gratitude to Ms. Yuko Watanabe and Ms. Kimberly Sutton, both Associate Program Officers at the Bill & Melinda Gates Foundation, for working with us and for their impactful work. Special thanks to Mr. Choi Sunghan for infographics.
Table of Contents
– Introduction
– ODA Support and Source of Information
– Public Perception about South Korea as a Developed Nation
– South Korean Elite Attitudes on ODA
– Conclusion
– Survey Methodology
* The views expressed herein are solely those of the authors and do not necessarily reflect those of the Asan Institute for Policy Studies.