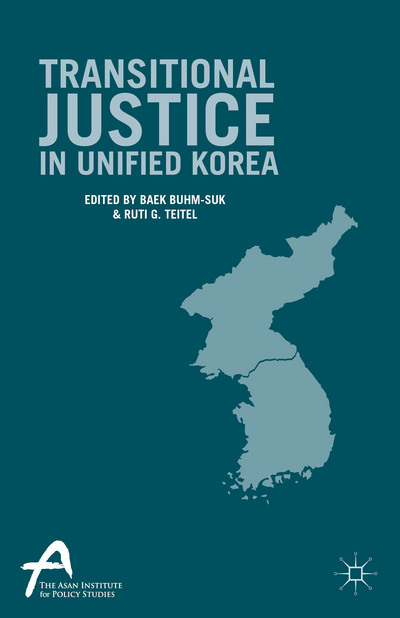 Product Details
• Series: Asan-Palgrave Macmillan Series
• Hardcover: 288 pages
• Publisher: Palgrave Macmillan (October 1, 2015)
• Language: English
• ISBN-10: 1137537027
• ISBN-13: 978-1137537027
• Price: $90.61 (HB)

About the Book
No one knows when Korean unification will take place. Experts predict that it will take decades, if not more, to overcome the huge economic, social, and political divide between the two Koreas. However, if and when unification occurs, transitional justice will be a crucial part of maintaining peace and stability on the Korean Peninsula. The authors of this book draw on real-world experience, comparative case studies, and theoretical knowledge to examine potential ways transitional justice might unfold. Although there are an overwhelming number of uncertainties, this book presents many of the factors that will be at play during the transition period. The authors find that, among other factors, social reconciliation, education, memorialization, and establishment of the rule of law will be a fundamental part of rebuilding society in a unified Korea.
About the Author
Baek Buhm-Suk is Assistant Professor of Public International Law at Kyung Hee University, South Korea. He has previously worked as a lecturer at the Seoul National University College of Law, South Korea, a research fellow at the Asan Institute for Policy Studies, South Korea, and a Visiting Research Fellow at Georgetown University Law Center, USA.
Ruti G. Teitel is the Ernst C. Stiefel Professor of Comparative Law at New York Law School, USA, and a Visiting Fellow at the London School of Economics, UK. She is the author of the landmark Transitional Justice (2000) and, most recently, Globalizing Transitional Justice ( 2014). She is founding co-chair of the American Society of International Law's Interest Group on Transitional Justice and Rule of Law, a life member of the Council on Foreign Relations, and serves on the Executive Committee of the International Studies Association Human Rights Section as well as on the ILA International Human Rights Committee.