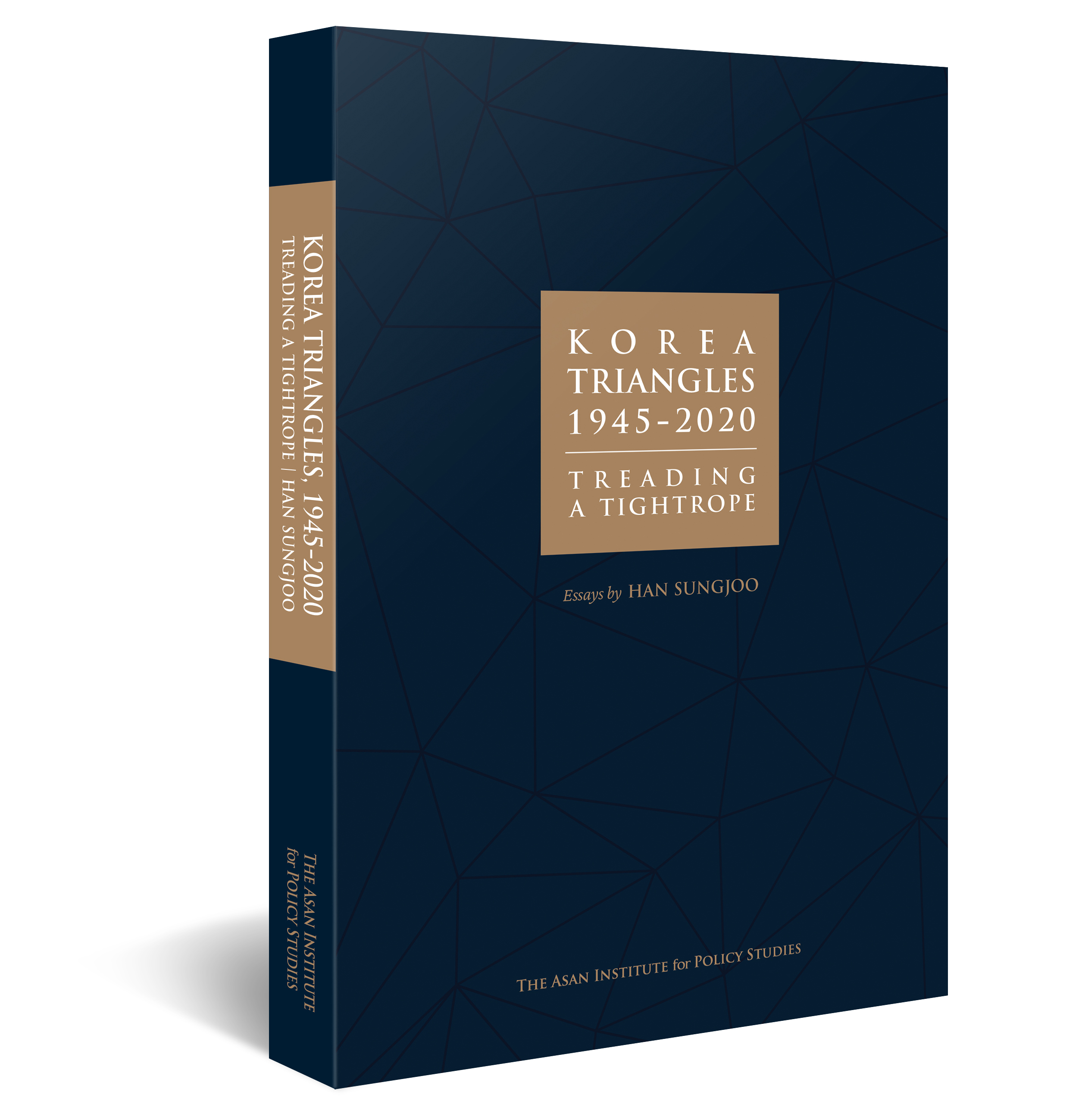 Product Details
• Author: Han SungJoo
• Publisher: The Asan Institute for Policy Studies
• Paperback: 156 pages
• Price: KRW 16,000
• Language: English
• Product Dimensions: 5.9 x 8.9 inches
• ISBN: 979-11-5570-212-3 93340
※ Now on sale at Kyobo Bookstores nationwide
About the Book
Korea is a country surrounded by powerful and contending neighbors such as China, Japan and Russia. Due to its geopolitical circumstance, it often experienced in its history being caught in a triangular relationship between two other powers such as China and Japan. Toward the end of the 16th century, Korea was invaded by Japan which attempted to use it as a pathway to China. After the end of World War II, Korea was a prize that two victors of the war, the United States and the Soviet Union (Russia), sought to place it under their influence if not control. Eventually, they agreed to a shared occupation, dividing the country into two halves. Today, seven and a half decades later, Korea (still divided into north and south) has become the focal point of the Sino-American rivalry. The fateful predicament of being the third leg of various triangular relationships has taught Koreans to tread a tightrope of conducting international politics in order to keep their country intact and safe. Sometimes they succeeded, other times they couldn't. This book traces back how Korea has dealt with the challenges and how they will cope in the years ahead.
About the Author
Han SungJoo is a professor emeritus at Korea University. He previously served as the minister of foreign affairs and ambassador of the Republic of Korea to the United States. He was also UN Secretary-General's special representative for Cyprus, a member of the UN Inquiry Commission on the 1994 Rwanda Genocide, and chairman of the East Asia Vision Group. He is currently chairman of the Asan Institute for Policy Studies.
He is a graduate of Seoul National University and received a Ph.D. in political science from the University of California, Berkeley. Previously, he taught at City University of New York and was a visiting professor at Columbia University and Stanford University. He was also a distinguished fellow at the Rockefeller Brothers Fund and acting president of Korea University.
Contents
Acknowledgements
Preface
| Chapter 1 | The Emerging Triangle I: Korea and China in Historical Perspective
Early China-Korea Relations
Consequences of the Korean War (1950–53)
The Road to Normalization
China and South Korea: Approaching a New Century
China-Korea Relations and the Other Major Powers
Some Concluding Observations
| Chapter 2 | The Emerging Triangle II: The U.S.-Korea Relations
The Early Decades: A Slow Start
Post-Independence Relationship
South Korean Relationship with the United States in the Post-Korean War Period
South Korea-United States Relations in the 1960s
Bilateral Relations in the 1960s
Korean Reaction to Carter Troop Withdrawal Plan
Korea-U.S. Relations in the Post-Park Period
Korea and the Carter Administration
The Reagan Administration's Korea Policy
The North Korea Question
Future Perspective
Conclusion
| Chapter 3 | The Emerging Triangle III: The North Korean Nuclear Issue
North Korean Policy Toward the United States and Nuclear Weapons
Nineteen Months: The North Korean Nuclear Crisis of 1993–94
Fast Forward, 2020
North Korea, Today
The Korea Focus: The Influence of the Major Powers
A New Triangle Takes Shape: Korean Attitudes Toward the U.S. and the PRC
The Unification Question
Conclusion
| Chapter 4 | An Uneasy Triangle: Korea Between China and Japan
The Geopolitical Situation in Northeast Asia
Korea's Role in China-Japan-Korea Triangle
The Northeast Asia Triangle and North Korean Nuclear Issue
Rise of China and Resurgent Nationalism in Northeast Asia
| Chapter 5 | Division Management and Unification: Korea vs. Germany
Status of Inter-Korea Relations
Possibility for Duplication?
Persuading Major Powers
China's Interests and Reasons for Its Stance
Conclusion

| Chapter 6 | A Grand Strategy for South Korea?
The Regional Landscape: South Korea and the Major Powers
Strategic Choices
Conclusion
Afterword
Index