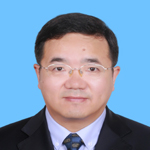 Deputy Editor, Global Times English Edition
Session 4 - "Could Be Worse: China-Japan Relations"
Mr. Chen is the deputy editor of the Beijing-based newspaper the Global Times English Edition. Before taking up his current position, he served as an expert of communications and media operations expert with the Beijing 2008 Olympic Games organizing committee (2003-08), and worked as a reporter and later a senior editor with the China Daily newspaper (1992-02). He was a winner of the prestigious China International News Awards in 2000. His academic interests include China's peripheral security, China's relations with the two Koreas as well as Japan, inter-Korean relations, reunification of the Korean Peninsula, and the peace mechanism in Northeast Asia. He holds an M.A. in international relations from the Korea Development Institute's School of Public Policy and Management.