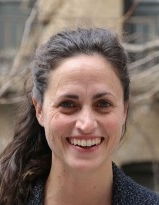 Deputy Managing Editor, Just Security
Session 2 - "Cyber Security"
Ms. Kate Brannen is the deputy managing editor of Just Security and a nonresident senior fellow at the Brent Scowcroft Center on International Security at the Atlantic Council. Her writing has appeared in The Atlantic, Foreign Policy (FP), The Guardian, Newsweek, The Daily Beast, Slate and Vice. Previously, she was a senior reporter covering the Pentagon for FP. Before that, Brannen was a defense reporter for POLITICO, where she was also responsible for "Morning Defense," POLITICO's daily national security newsletter. Brannen has also covered budget and defense policy debates on Capitol Hill as the congressional reporter for Defense News. She spent three years covering the U.S. Army — first as a reporter for InsideDefense.com, then as the land warfare correspondent for Defense News. She has discussed her reporting on MSNBC; NPR's All Things Considered, On Point, and The Diane Rehm Show; and PRI's To the Point. Brannen graduated from the University of Pennsylvania with a bachelor's degree in history. She has master's degrees from Columbia University's Graduate School of Journalism and School of International and Public Affairs.