Security Dynamics in the Korean Peninsula
On Feb 27-28, US President Trump and North Korean leader Kim Jong-un held a second summit in Hanoi. The meeting ended without an agreement. Although the South Korean government was caught off guard, President Moon announced that he will push ahead to play a mediating role between the US and North Korea.[1]
In a National Security Meeting, President Moon stated that North Korea's proposal to shut down its Yongbyon nuclear facility is an irreversible step towards denuclearization. He ordered the cabinet to explore options to reopen the Kaesong Industrial Complex and resume tours to Mount Kumgang.[2] His statement was met with criticism from the opposition party which stressed the need to reorient the president's diplomatic strategy towards North Korea. Many hold the view that President Moon's insistence on inter-Korean cooperation could damage relations between the US and ROK.
Do you think North Korea will abandon nukes?[3]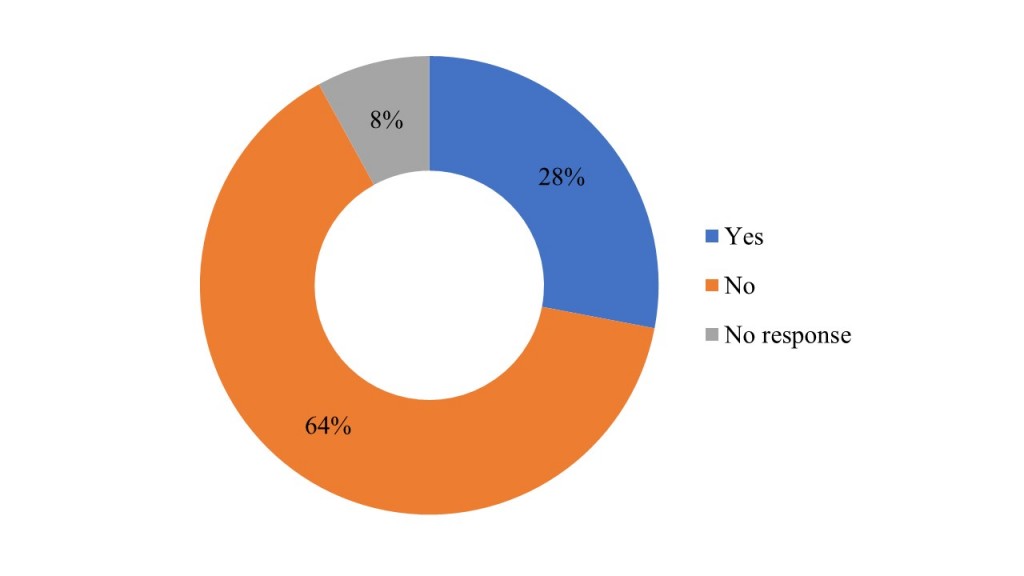 Shortly after the second US-DPRK Summit, the US and ROK announced the termination of two large- scale joint military exercises (i.e. Key Resolve and Foal Eagle).[4] Some experts claim that terminating the joint military exercise could compromise South Korea's national security. Progressives argue that the move shows some willingness on the part of the US and ROK to continue negotiating with North Korea.
In the meanwhile, the South Korean National Intelligence Service (NIS) confirmed that North Korea has been operating the uranium enrichment facilities in Yongbyon even before the Hanoi Summit.[5] The NIS also reported unusual activity in the Sanum-dong Missile Research and Development Facility. This site is widely known to be an ICBM production facility.
Cabinet Reshuffle
The Blue House announced some major changes in its cabinet with right new ministers being nominated to replace the outgoing ministers who will be running in next year's general election.[6] The Office of National Security Council (NSC) was also reorganized.[7] Kim Hyun-chong, the former Minister for Trade, was appointed as the Deputy Director of NSC. Choi Jong-kun, the former Secretary for Peace and Arms Control is appointed as the Peace Planning Secretary, while Noh Kyu-duk has been nominated as the Secretary for Security Strategy.
Ministerial Nominations
| | | | |
| --- | --- | --- | --- |
|   | Name | Position | Ministry |
| 1 | Chin Young | Minister | Ministry of the interior and Safety |
| 2 | Park Young-Sun | Minister | Ministry of SMEs and Startups |
| 3 | Park Yang Woo | Minister | Ministry of Culture, Sports and Tourism |
| 4 | Kim Yeonchul | Minister | Ministry of Unification |
| 5 | Cho Dong Ho | Minister | Ministry of Science and ICT |
| 6 | Choi Jeong Ho | Minister | Ministry of Land, Infrastructure and Transport |
| 7 | Moon Seong Hyeok | Minister | Ministry of Oceans and Fisheries |
President Moon's support rate fell slightly following the breakdown of the Hanoi summit and the government's failure to manage the PM 2.5 problem.[8] This is the first time that an environmental issue was listed as one of the major factors that contributed to a decline in presidential support.
President Moon's Approval Rating[9]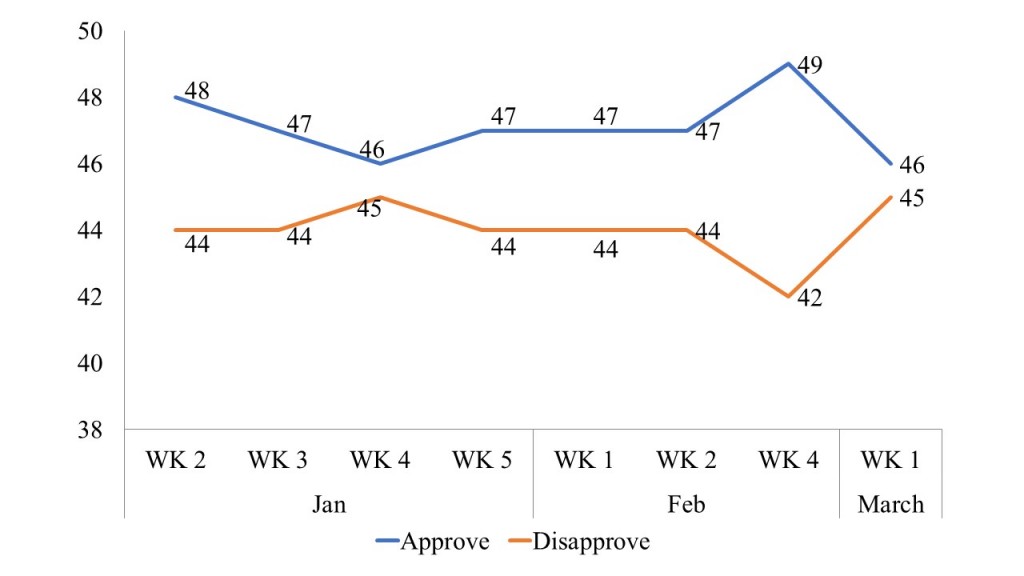 The 10th Special Measures Agreement
On March 8, South Korea's Foreign Minister Kang Kyung-wha and US Ambassador to South Korea Harry Harris signed the 10th Special Measures Agreement. The provisional agreement was signed on Feb 10.[10] The new SMA is expected to be ratified by the National Assembly in April. South Korea's share of defense cost is KRW 1.03 trillion for 2019.
30-50 Club
South Korea's per capita income is expected to surpass USD 30,000, according to a preliminary data released by the Bank of Korea on Mar 5. If confirmed, South Korea would become the seventh country in the world to join the so-called 30-50 club, which refers to a per capita income exceeding USD 30,000 and a population of over 50 million. The other six countries in this club include the United States, the United Kingdom, Germany, France, Italy, and Japan.[11]
New Ambassadors to China, Japan, and Russia
President Moon Jae-in plans to nominate new ambassadors to Japan, China, and Russia. Former presidential policy chief Jang Ha-sung is likely to be appointed as the new ambassador to China. He led the controversial policy of income-led growth and stepped down from his previous position last November. Former Deputy Director of the NSC Nam Gwan-pyo is likely to take up the post in Japan, while Consul General in Vladivostok Lee Sok-bae is likely to be promoted as the new ambassador to Russia. Ambassador Cho Yoon-je is expected to remain at his current position in Washington.[12]
Outlook on Growth
Moody's Investors Service has lowered South Korea's growth estimate for 2019 to 2.1 percent. Moody's report cites the continued slowdown in sales to China as well as a sharp increase in the minimum wage as the main reasons for the downgraded outlook. South Korean government projects this year's growth at around 2.6 percent to 2.7 percent.[13]
| | |
| --- | --- |
| Institutions | Growth Outlook |
| Moody's | 2.10% |
| Credit Suisse | 2.40% |
| Barclays | 2.50% |
| UBS | 2.50% |
| Hyundai Research | 2.50% |
UAE Crown Prince Visits Korea
Crown Prince of Abu Dhabi, Mohammed bin Zayed Al-Nahyan visited South Korea during Feb 26-27 for a summit with President Moon. The two countries agreed to further expand cooperation in telecommunication, artificial intelligence, semiconductors, and renewable energy. After the meeting, President Moon hosted an official luncheon for the crown prince, which was attended by the special presidential advisor for the UAE Im Jong-seok and heads of the country's top conglomerates, including Lee Jae-yong of Samsung Electronics, Chey Tae-won from SK Group, and Huh Yong-soo from GS Energy.[14]
[1] The Blue House official website, [available at: https://www1.president.go.kr/articles/5607 ]
[2] "文대통령 "무너지는건 순간… 北-美 대화궤도 이탈 막는게 급선무"", 동아일보, 2019년 3월 5일.
[3] Gallup Korea, Date: March 5-7; sample size: 1,003; margin of error: +3.1 at the 95% confidence level.
[4] "하노이 결렬 직후…韓美 3대연합훈련 사실상 모두 사라져", 매일경제, 2019년 3월 3일.
[5] "국정원 "北 영변 우라늄농축시설 정상가동…산음동 차량 움직임"", 조선일보, 2019년 3월 7일.
[6] "文대통령, 7개 부처 개각..행안 진영, 중기 박영선, 국토 최정호", 조선일보, 2019년 3월 8일.
[7] "靑, 통상 전문가 김현종 앞세워 '美의 제재' 풀기 나선다", 조선일보, 2019년 3월 6일.
[8] ""미세먼지 대책 부족" 문 대통령 국정 지지도 하락",한겨레, 2019년 3월 8일.
[9] Gallup Korea, Date: March 5-7; sample size: 1,003; margin of error: +3.1 at the 95% confidence level.
[10] "韓美, 방위비분담금협정 정식서명…내주 국회에 비준동의요청", 연합뉴스, 2019년 3월 8일.
[11] "한국 '1인당 소득 3만달러' 돌파···문제는 지금부터다," 중앙일보, 2019년 3월 5일.
[12] "공관장 회전문 인사 논란에도 駐中 장하성〮駐日 남관표 내정," 조선일보, 2019년 3월 5일.
[13] '무디스의 경고…"한국, 성장률 2.1%로 추락",' 한국경제, 2019년 3월 4일.
[14] '문 대통령, UAE 왕세제에게 "원전 100년 함께 가자",' 한겨레, 2019년 2월 27일.
Contributing Staff (in alphabetical order): Hong Sang-hwa and Kim Seonkyung 
Editor: J. James Kim