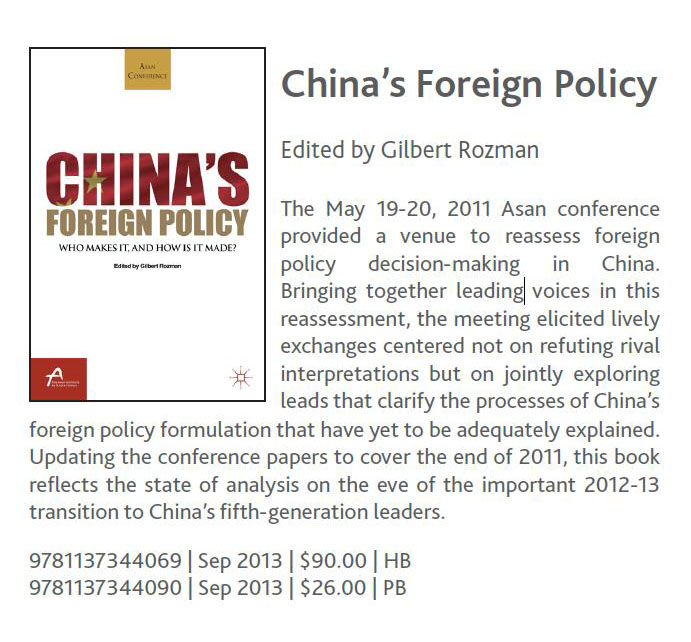 About the Book
Produced as the result of an Asan Institute conference, China's Foreign Policy was first published by the Asan Institute for Policy Studies in August 31, 2012. The book was released once again in September 19, 2013 through Palgrave Macmillan in association with the Institute, now available to readers in the US and worldwide.
Contents
Preface
Hahm Chaibong
Inroduction
Gilbert Rozman
Part 1 China's Leadership and Foreign Policy
Chapter 1 Thomas Christensen,
More Actors, Less Coordination?
New Challenges for the Leaders of a Rising China
Chapter 2 Avery Goldstein,
China's Foreign Policy and the Leadership Transition:
Prospects for Change under the 'Fifth Generation'
Chapter 3 Shin Jung-Seung,
Another Take on Prospects for the Foreign Policy of the Chinese Fifth-Generation Leadership
Part 2 China's Think Tanks and Foreign Policy
Chapter 4 Bonnie S. Glaser,
Chinese Foreign Policy Research Institutes and the Practice of Influence
Chapter 5 Quansheng Zhao,
Moving between the 'Inner Circle' and the 'Outer Circle':
The Limited Impact of Think Tanks on Policy Making in China
Part 3 China's National Identity and Foreign Policy
Chapter 6 Gilbert Rozman,
Chinese National Identity and Foreign Policy: Linkages between the Two
Chapter 7, Robert S. Ross,
Chinese Nationalism and the American Response:
Sources of Tension and Prospects for Renewed Cooperation
Part 4 Financial Factors in Chinese Foreign Policy Making
Chapter 8 William H. Overholt,
China's Leadership and Their Financial and Monetary Policies
Chapter 9 Francois Godemont,
How Do Monetary and Financial Issues Interact with China's Foreign Policy Making?
Part 5 China's Foreign Policy toward the Korean Peninsula
Chapter 10 Chen Ping,
China's North Korea Policy: Misperception and Reality
(An Independent Chinese Perspective on Sino-Korean Relations)
Chapter 11 Yufan Hao,
China's Korea Policy in the Making
Chapter 12 Peter Gries,
Disillusionment and Dismay:
How Chinese Netizens Think and Feel about the Two Koreas