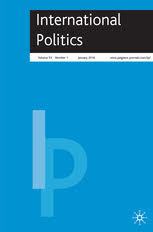 Professor Easley published an article on South Korea's middle power diplomacy in the LSE-based SSCI-listed journal,International Politics.
The article addresses the puzzle of why Seoul successfully pursued middle power diplomacy on the world stage — via multilateralism, institution building, and contributions to global public goods — but struggled to project South Korea's middle power identity and interests in East Asia.
"South Korea's Mismatched Diplomacy in Asia: Middle Power Identity, Interests, and Foreign Policy," (with Kyuri Park), International Politics, (October 2017), pp. 1-22.
Full text available at:http://rdcu.be/w3xC.

* ​This article was published on October 25 at International Politics. The views expressed herein do not necessarily reflect the views of the Asan Institute for Policy Studies.​