Working Group Meeting in South Korea
The Special Representative for North Korea Stephen Biegun visited Seoul for a working group meeting during Dec 19~21. Biegun mentioned the possibility of reviewing restrictions on humanitarian assistance to North Korea. Biegun also visited Panmunjom but he also stated that the US has no intention of easing sanctions. These moves were interpreted by the South Korean media as a goodwill gesture by the US to bargain with North Korea in good faith.
Inter-Korean railway
On Dec 26, the groundbreaking ceremony for the inter-Korean railway was held in Panmun station, Kaesong. One hundred people including the Minister of Land, Infrastructure and Transport, Minister of Unification,  leader of the Together Democratic Party (TDP), and the Chinese ambassador to Korea boarded the train that departed Seoul station. One hundred people also attended the ceremony from the North Korean side including Unification Committee Chief Ri Sun-kwon.
South Korea's leading opposition Liberty Korea Party (LKP) members did not attend the ceremony. Protests opposing the connection of inter-Korean railways also took place in Seoul.[1] While some believe that the ceremony has symbolic significance, others claim that it is a political ploy.
Cybersecurity
On Dec 28, one of the support centers for North Korean defectors, Gyung-buk Hanawon, was hacked.[2] Personal information of 997 North Korean defectors were reported to have been compromised. The mastermind behind this cyberattack has yet to be identifed, but many experts believe that the attack was carefully planned and executed. Incidental evidence appears to suggest that this latest attack is likely to have originated from North Korea. Pundits believe that if North Korea was behind the attack, it could pose a significant threat to the security of North Korean defectors residing in South Korea.[3]
Political Scandal
On Dec 26, the prosecutor searched the Office of the Secretary of Anti-Corruption and Special Inspector Office at the Blue House following the LKP accusation that the Chief Presidential Secretary Im Jong-seok and Senior Presidential Secretary for Civil Affairs Cho Kuk conducted surveillance against civilians without proper warrants.[4] The case was first raised by a former investigator Kim Tae Woo who was also part of the special inspection team at the Blue House. Kim claims that he was given orders to investigate civilians while working at the Blue House. The Blue House argues that Kim is solely responsible for the alleged illegal surveillance. The Blue House also filed charges against Kim for leaking official secrets to the media.[5] The LKP urged Im and Cho to attend the House Steering Committee hearing at the National Assembly. President Moon's approval continued its downward slide.
President Moon's Approval Rating[6]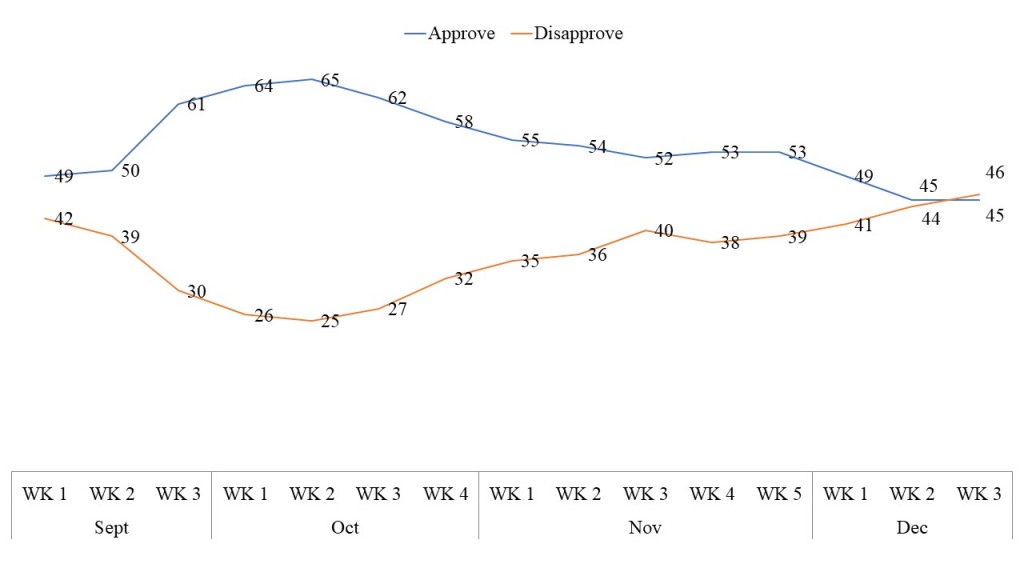 Japan
Japanese Defense Minister Iwaya Takeshi claimed on Dec 21 that a South Korea's Gwanggaeto-daewang class destroyer directed a fire-control radar at a patrol aircraft (P-1) of the Japan's Maritime Self-Defense Force (MSDF) off the coast of the Noto Peninsula on Dec 20 at around 15:00. Tokyo expressed deep regret and requested an explanation.[7] South Korea, however, denied the Japanese claim that its destroyer targeted the MSDF's P-1 aircraft. According to officials from the South Korean Ministry of Defense, the destroyer used only the MW-08 radar to search for a North Korean fishing boat in distress, and never turned on its fire-control radar, the Signal Tracking and Illumination Radar (STIR) 180, as Japan had claimed. The destroyer launched the Electro-Optical Tracking System (EOTS) attached to the STIR 180 to identify a Japanese P-1 aircraft flying at a low altitude over the vessel. The STIR 180 antenna would move when EOTS was aimed at the MSDF's P-1 aircraft for identification, but the STIR 180 did not emit any radio waves, the South Korean military explained.[8] At a director-level meeting on Dec 24, the South Korean Foreign Ministry expressed strong regret that Tokyo made its own claim to the media without proper factfinding.[9]
China
The South Korean Joint Chiefs of Staff announced that a Chinese military aircraft entered the South Korean Air Defense Identification Zone (KADIZ) on Dec 27. It first flew into KADIZ from northwest of Jeju Island at 10:21 and entered the Japan Air Defense Identification Zone (JADIZ) at 10:51. It then re-entered KADIZ at 11:54 and exited the zone at around 15:00. This is the eighth such incursion this year. The South Korean Air Force responded by scrambling fighter jets, including the F-15K.[10]
National Pension Service
The National Pension Service (NPS) stated on Dec 28 that its investment returns in the Jan~Oct period was -0.57 percent. This is due to poor performance of the domestic stock market which makes up about 17 percent of the fund's investment portfolio. The fund's return from domestic stock investments was -16.57 percent. The benchmark Korea Composite Stock Price Index (KOSPI) plunged 17.7 percent as of the end of Oct. The fund earned a return of 1.64 percent from overseas stocks, 3.47 percent from domestic bonds, and 4.53 percent from overseas bonds. It also raked in a return of 7.57 percent from alternative investments. The fund's cumulative investment return has sustained its annual average rate of 5.30 percent as of the end of Oct, since its inception in 1988.[11]
KOSPI
On Dec 28, the KOSPI rose 12.60 points (0.62 percent) to close the year at 2028.44. While retail and institutional investors offloaded local stocks worth KRW 37.8 billion and KRW 160.2 billion respectively, foreign investors bought KRW 202.9 billion.[12]
Economic Outlook for 2019
On Dec 17, the government lowered the country's growth estimate for 2019 at around 2.6 percent to 2.7 percent from its previous forecast of 2.8 percent. The LG Economic Research Institute and Hyundai Research Institute forecasted the country's growth forecast for 2019 at 2.5 percent. Experts see a lack of corporate investments and the global economic slowdown as the main reasons for the downgraded outlook.[13]
Outlook for 2019[14]
| | | | |
| --- | --- | --- | --- |
| Country | Optimist | Pessimist | Neutral |
| Nigeria | 65% | 19% | 14% |
| Pakistan | 54% | 17% | 23% |
| Paraguay | 53% | 10% | 32% |
| Philippines | 33% | 10% | 53% |
| Poland | 27% | 28% | 36% |
| ROK | 11% | 41% | 48% |
| Romania | 46% | 25% | 25% |
| Russia | 23% | 26% | 42% |
| Serbia | 31% | 33% | 34% |
| S. Africa | 66% | 15% | 11% |
| Spain | 34% | 27% | 33% |
| Switzerland | 37% | 15% | 43% |
| Thailand | 31% | 25% | 38% |
| Turkey | 33% | 44% | 18% |
| UK | 29% | 30% | 30% |
| Ukraine | 36% | 32% | 17% |
| USA | 51% | 19% | 23% |
| Vietnam | 53% | 8% | 35% |
Of the 18 countries surveyed by Gallup International during October~December of this year, South Korea showed the lowest rate of optimism (11%) and the second highest rate of pessimism (41%).
[1] "남북 철도·도로 착공식, 南 열차 北으로 출발…오전 10시 행사 시작", 조선일보, 2018년 12월 26일.
[2] "탈북민 997명 개인정보 유출…北 해킹 가능성은?", 동아일보, 2018년 12월 29일.
[3] "탈북민센터 해킹당해 997명 신상 털렸다", 조선일보, 2018년 12월 29일.
[4] "검찰, 청와대 반부패비서관실·특감반 압수수색", 중앙일보, 2018년 12월 27일.
[5] "청와대, 김태우 전 특감반원 고발…"공무상 비밀누설"", 한겨레, 2018년 12월 19일.
[6] Gallup Korea, Date: Dec 18-20; sample size: 1,000; margin of error: +3.1 at the 95% confidence level.
[7] "광개토함, 日초계기 겨냥 논란," 조선일보, 2018년 12월 22일.
[8] "일본 "같은 편에 총 쏘나" 한국 "사격용 레이더 안 쐈다"," 중앙일보, 2018년 12월 24일
[9] "'레이더 논란' 외교부, 日에 유감표명…"사실 확인 없이 언론 발표"," 중앙일보, 2018년 12월 24일.
[10] "中군용기, 또 KADIZ 진입…공군 긴급 대응 출격," 조선일보, 2018년 12월 27일.
[11] "국민연금 운용 수익률 10년 만에 '마이너스'," 조선일보, 2018년 12월 29일.
[12] "오늘(28일) 2018 코스피 폐장일…외국인 '바이 코리아'에 2040선 상승 마감," 세계일보, 2018년 12월 28일.
[13] "[2019년 경제정책] '2.6~2.7%'로 낮춘 성장률 전망…경기후퇴 인정," 조선비즈, 2018년 12월 17일.
[14] Gallup International, date: Oct-Dec, 2018; sample size: 1,000 (in each country); margin of error: +3.1 at the 95% confidence level.
Contributing Staff (in alphabetical order): Hong Sang-hwa and Kim Seonkyung 
Editor: J. James Kim