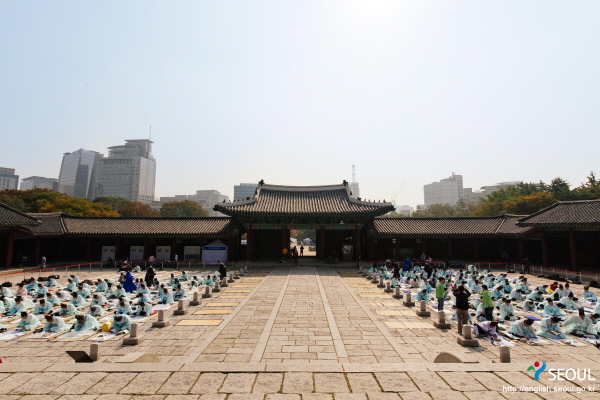 Seoul, officially known as Seoul Special City, is the capital and largest metropolis of South Korea. With a population of over 10 million, it is one of the largest cities in the world. When including the adjacent areas, the Seoul National Capital Area is the world's second largest metropolitan area with over 24.5 million people, representing nearly one half of South Korea's entire population. This makes Seoul the country's foremost economic, political, and cultural center.
Seoul has been a major settlement for over 2,000 years. It was founded in 18 B.C. when Baekje, one of the Three Kingdoms of Korea, established its capital in what is now south east Seoul. It continued as the capital of Korea throughout the Joseon Dynasty and the Korean Empire. Today, Seoul is considered to be a leading global city, ranking among the top ten in the Global Cities Index of 2010. It is one of the world's top ten financial and commercial centers, home to major multinational conglomerates such as Samsung, LG, and Hyundai-Kia.
In 2008, Seoul was named the world's sixth most economically powerful city by Forbes.
Seoul has a highly technologically advanced infrastructure. Its Digital Media City is the world's first complex for IT and multimedia applications. It was the first city to feature DMB, a digital mobile TV technology and WiBro, a wireless high-speed mobile internet service. It has a fast, high-penetration 100 Mbit/s fiber-optic broadband network, which is being upgraded to 1 Gbit/s by 2012. Seoul Station houses the 350 km/h KTX bullet train and the Seoul Subway is the third largest in the world, with over 200 million passengers every year. Seoul is connected via AREX to Incheon International Airport, rated as the best airport in the world by Airports Council International.
Seoul hosted the 1988 Summer Olympics, the 2002 FIFA World Cup, and the 2010 G-20 Seoul summit. The city was named the World Design Capital for 2010 by the International Council of Societies of Industrial Design.
(Source: Seoul Tourist Office and Facts about Seoul)
For more information about Seoul, please visit the following websites.
· Seoul official english website
· VISIT SEOUL.net: The Official Seoul City Tourism Website