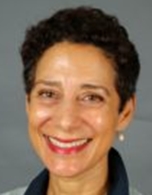 Co-founder, Abdorrahman Boroumand Center for Human Rights in Iran
Session 2 - "Is Democracy in Crisis?"
Dr. Ladan Boroumand is the co-founder of the Abdorrahman Boroumand Center (ABC) for the promotion of human rights and democracy in Iran, a nongovernmental organization that promotes human rights awareness through education and information dissemination, including through the online human rights library Omid Memorial, a website that documents human rights abuses committed by the Islamic Republic and memorializes victims. Dr. Boroumand also serves on the Steering Committee of the World Movement for Democracy. A historian by training, she is the author of the book La Guerre des Principes (1999), which examines the tensions between human rights and national sovereignty in the French revolutionary parliamentary debates (1789-1794), and has also published articles on the French Revolution, the Islamic revolution in Iran, and the nature of Islamist terrorism. In 2018-2019, as a Reagan Fascell Fellow at the International Forum for Democratic Studies (National Endowment of Democracy), Dr. Boroumand focused on the development of secularism in the Islamic Republic of Iran and the ensuing ideological crisis for Iran's Islamic regime. Secularism in Iran remains the focus of her current research.