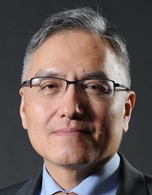 Distinguished Research Fellow, Institute of Political Science at Academia Sinica
Session 2 - "Is Democracy in Crisis?"
Professor Chu Yun-han is a distinguished research fellow of the Institute of Political Science at Academia Sinica and a professor of political science at National Taiwan University. He serves concurrently as president of the Chiang Ching-Kuo Foundation for International Scholarly Exchange. Prof. Chu is a world-renowned scholar of democratization and East Asian political economy and a pioneer in developing theories and methods for studying the consolidation of young democracies through survey research. He was elected Academician by Academia Sinica in 2012, the highest academic honor in the Republic of China. He was awarded the Outstanding Achievement Award by the University of Minnesota in 2014, the highest honor the university bestows upon its alumni. He also was elected Fellow of The World Academy of Science in 2016. Professor Chu received his Ph. D. in political science from the University of Minnesota.