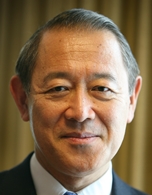 President, Nakasone Peace Institute (NPI)
Session 2 - "Values or Interest?"
Ambassador Fujisaki Ichiro had been a Japanese diplomat who served as ambassador to the United States from 2008 to 2012. He is currently president of the America-Japan Society and the Nakasone Peace Institute (NPI). He was also ambassador to the United Nations and to the UN High Commissioner for Refugees. From 1995 to 1999, he worked in Washington DC as the political minister of the Embassy of Japan. Amb. Fujisaki's other Ministry of Foreign Affairs posts include terms as deputy director-general for Asian Affairs and director-general for North American Affairs before being appointed as the deputy foreign minister. He studied at the Keio University, Brown University and at the Stanford Graduate School. He is married and has two daughters.