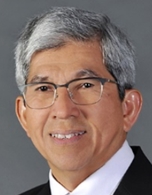 Advisor, Singapore Institute of Technology
Session 3 - "Technology Competition or Cooperation?
Professor Yaacob Ibrahim joined the Board of Trustees for the Building Construction and Timber Industries Employees' Union (BATU) on 1 January 2019. He is currently a professor of engineering at the Singapore Institute of Technology (SIT) where he is also advisor to the president of SIT. He is advisor to IMDA's Kampong Glam Digitalisation Project and an MP for Jalan Besar GRC. Prior to his current position, Prof. Yaacob served as Minister in the Ministries of Communications and Information (2011-2018), Environment and Water Resources (2004-2011) and Community Development and Sports (2002-2004). Throughout his 16 years as a minister, he was also Minister-in-charge of Muslim Affairs. He started his political career as a member of parliament (MP) in Jalan Besar GRC on 2 January 1997. He held several political appointments before becoming a minister in 2002. Prof. Yaacob graduated from the University of Singapore with a degree in Civil Engineering in 1980. He worked as a structural engineer with a multinational engineering consulting firm from 1980 to 1984. He pursued his Ph.D. at Stanford University from 1984 and graduated in 1989. He spent two years as a post-doctoral fellow at Cornell University. He joined the National University of Singapore as a faculty member in 1990 where he became a tenured member. He took a leave of absence from NUS from July 1998 till his resignation from NUS in August 2018.