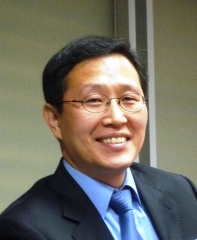 Jean Monet Chair Professor, Department of Political Science and International Relations, Korea University
Session 1 - "Back to Modernity in the EU?"
Dr. Kim is Jean Monnet Chair Professor in the Department of Political Science and International Relations at Korea University. Dr. Kim also previously served as Editor in Chief for the Korean Political Science Review 2010–2012. He was the winner of Best Article Awards from the Korean Political Science Association in 2011 and the Korean Society of Contemporary European Studies in 2011. His publications include the articles 'Citizen and Borders','Cultural Survival and Universal Human Rights', and 'European Experiences for East Asian Integration', and the books Multicultural Challenges and Redefining Identity in East Asia (2014), Deliberative Multiculturalism in Britain (2011), and Globalization and Regional Integration in Europe and Asia (2009). His main research interests are the philosophical interpretation of public policy in the areas of citizenship, human rights, and multiculturalism in Europe and Asia. He studied at Seoul National University and Oxford University, and received his PhD in Political Science from the University of Chicago.